The Eagle, Captain William Powers
Characteristics
Unusual Features
Body engulfed in perpetual flames; extensive third-degree burns
Status
Origin
History

American patriot Bill Powers fought the Nazis as a spy and then put on a patriotic costume and fought against them as the Eagle. He was assisted by his sidekick, Buddy. At one time he had wings and could fly. Later he lost his wings but could fly via his suit. He was later captured by the yank in the urn and when he was freed he was on fire.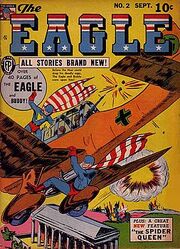 Powers and Abilities
Powers
Flight and Flaming Body

Abilities
None known.

Strength level
Unknown.

Weaknesses
None known.

Paraphernalia
Equipment: None known.
Transportation: None known.
Weapons: None known.

Notes
Historical First Appearance: Science Comics #1 (Fox Features, 1940)

Trivia
See Also
Discover and Discuss
Links and References
---
Ad blocker interference detected!
Wikia is a free-to-use site that makes money from advertising. We have a modified experience for viewers using ad blockers

Wikia is not accessible if you've made further modifications. Remove the custom ad blocker rule(s) and the page will load as expected.