Characteristics
Status
Occupation
U.S. government Agent
Origin
Richard E. Hughes & Kin Platt
First appearance
America's Best Comics #2 (Sep 1942)
History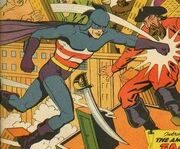 The American Eagle is, in reality, scientist Tom Standish, who works for the U.S. government. A mysterious black ray endowed both him and his young pal, Bud Pierce with powers associated with America's national bird. Standish and Pierce fight criminals as American Eagle and Eaglet.

Powers and Abilities
Powers
Powers associated with America's national bird

Abilities
None known.

Strength level
Unknown.

Weaknesses
None known.

Paraphernalia
Equipment: None known.
Transportation: None known.
Weapons: None known.

Notes
Trivia
See Also
Discover and Discuss
Links and References
http://pdsh.wikia.com/wiki/American_Eagle

---
Ad blocker interference detected!
Wikia is a free-to-use site that makes money from advertising. We have a modified experience for viewers using ad blockers

Wikia is not accessible if you've made further modifications. Remove the custom ad blocker rule(s) and the page will load as expected.