Characteristics
Status
Occupation
Member of US Intelligence Agency
First appearance
Funny Pages vol. 2 #10 (Sep 1938)
History

Ralph Payne is a member of US intelligence agency. Feeling that he could not effectively fight crime in his civilian guise, he turns to costumed crime fighting, becoming the Arrow. His primary weapon is his skill with bow and arrow, though he is good at fighting even without his weapons.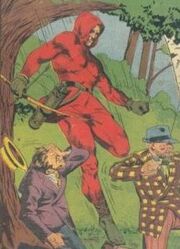 Powers and Abilities
Powers
None known.

Abilities
Strength level
Unknown.

Weaknesses
None known.

Paraphernalia
Equipment: Bow & Arrows
Transportation: None known.
Weapons: None known.

Notes
Trivia
See Also
Discover and Discuss
Links and References
---
Ad blocker interference detected!
Wikia is a free-to-use site that makes money from advertising. We have a modified experience for viewers using ad blockers

Wikia is not accessible if you've made further modifications. Remove the custom ad blocker rule(s) and the page will load as expected.