Characteristics
Status
Occupation
Police Officer
Origin
Richard E. Hughes & George Mandel
First appearance
Thrilling Comics #2 (Mar 1940)
History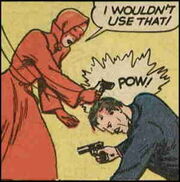 Frustrated by the limitations of her job, policewoman Peggy Allen created a secret identity. As the Woman In Red, she wore a red floor length coat, hood and mask. Her detective and firearm skills helped her accomplish her crimefighting goals without the restrictions imposed on everyday police officers. During World War II, Allen fought alongside the men, often ending up behind enemy lines. As the first female costumed hero in Project Superpowers universes, she served as a source of inspiration for heroines that followed in her footsteps. After the end of World War Two, Allen was trapped in the Urn by Fighting Yank, and was only recently freed.

Powers and Abilities
Powers
None known.

Abilities
None known.

Strength level
Unknown.

Weaknesses
None known.

Paraphernalia
Equipment: None known.
Transportation: None known.
Weapons: None known.

Notes
Trivia
Allen has alluded to being a lesbian, at one point commenting that she "was not normally drawn... to most men."[1]
See Also
Discover and Discuss
Links and References
---
Cite error: <ref> tags exist, but no <references/> tag was found
Ad blocker interference detected!
Wikia is a free-to-use site that makes money from advertising. We have a modified experience for viewers using ad blockers

Wikia is not accessible if you've made further modifications. Remove the custom ad blocker rule(s) and the page will load as expected.