Characteristics
Status
Origin
George Kapitan & Harry Sahle
First appearance
Green Giant #1 (1940)
History

Virtually nothing is known about the super-hero known as The Green Giant. He does appear to be completely bullet-proof, and at his tallest, stands 15 stories in the air. His real surname is Brentwood, but further details were never revealed.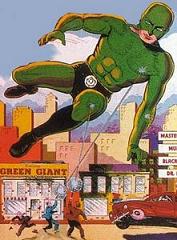 Powers and Abilities
Powers
Bullet-proof and can stand over fifteen stories tall

Abilities
None known.

Strength level
Unknown.

Weaknesses
None known.

Paraphernalia
Equipment: None known.
Transportation: None known.
Weapons: None known.

Notes
Trivia
See Also
Discover and Discuss
Links and References
http://pdsh.wikia.com/wiki/Green_Giant

---
Ad blocker interference detected!
Wikia is a free-to-use site that makes money from advertising. We have a modified experience for viewers using ad blockers

Wikia is not accessible if you've made further modifications. Remove the custom ad blocker rule(s) and the page will load as expected.