Characteristics
Status
Education
Harvard Education
Origin
First appearance
Blue Bolt Comics Vol. 1 #1 (1940)
History

Fred Parrish, a star football player at Harvard, is practicing in a remote area when he is struck by lightning. He manages to get to a plane to fly for help, but crashes in a very deep valley. He is brought into a subterranean lab where Dr. Benton explains that he survived thanks to Benton and some radium deposits. The accident has given him new powers that he needs to use to stop the invasion of the forces of the Green Sorceress. After defeating the Green Sorceress, he returns to the surface to fight crime.
He is partnered with Lois Blake, who has the same powers that Parrish does. He is capable of lightning projection, and he uses a lightning gun.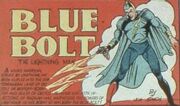 Powers and Abilities
Powers
Lightning Projection

Abilities
None known.

Strength level
Unknown.

Weaknesses
None known.

Paraphernalia
Equipment: None known.
Transportation: None known.
Weapons: Lightning Gun

Notes
Trivia
See Also
Discover and Discuss
Links and References
http://pdsh.wikia.com/wiki/Blue_Bolt

---
Ad blocker interference detected!
Wikia is a free-to-use site that makes money from advertising. We have a modified experience for viewers using ad blockers

Wikia is not accessible if you've made further modifications. Remove the custom ad blocker rule(s) and the page will load as expected.