Characteristics
Status
Origin
First appearance
Scoop Comics #1 (1941)
History
Cal Martin
, an inventor and adventurer, creates a "three-cartridge rocket pack". He aslo creates one for his fiancée Doris Dalton. Together they fight crime and the Nazis as Rocketman and Rocketgirl. They are partnered with Billy Wood, a young boy who they gave a jetpack to and who helps them as Rocket Boy. They have no powers but can fly with the jetpack.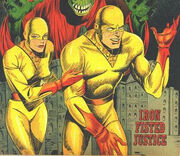 Powers and Abilities
Powers
None

Abilities
None known.

Strength level
Unknown.

Weaknesses
None known.

Paraphernalia
Equipment: Jetpack
Transportation: None known.
Weapons: None known.

Notes
Trivia
See Also
Discover and Discuss
Links and References
http://pdsh.wikia.com/wiki/Rocketman_and_Rocketgirl

---
Ad blocker interference detected!
Wikia is a free-to-use site that makes money from advertising. We have a modified experience for viewers using ad blockers

Wikia is not accessible if you've made further modifications. Remove the custom ad blocker rule(s) and the page will load as expected.