Characteristics
Status
Occupation
Detective Sergeant
Origin
History
Danny Dartin, detective sergeant, was frustrated by criminals who outwitted the law or who use loopholes to escape justice, so he puts on a costume becoming the Raven. Then he goes after those elusive criminals, taking their cash and redistributing it to the poor like Robin Hood. He was helped by Lola Lash, the daughter of NYC's police chief. He had no powers, but was a talented fighter and detective.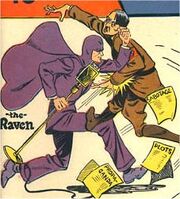 Powers and Abilities
Powers
None known.

Abilities
Talented Fighter and Detective

Strength level
Unknown.

Weaknesses
None known.

Paraphernalia
Equipment: None known.
Transportation: None known.
Weapons: None known.

Notes
Historical First Appearance: Sure-Fire Comics #1 (Ace Periodicals, 1940)

Trivia
See Also
Discover and Discuss
Links and References
---
Ad blocker interference detected!
Wikia is a free-to-use site that makes money from advertising. We have a modified experience for viewers using ad blockers

Wikia is not accessible if you've made further modifications. Remove the custom ad blocker rule(s) and the page will load as expected.