Characteristics
Status
Origin
History

Young side-kick of the Eagle, Buddy could fly like a bird and used this power to fight Nazis and criminals.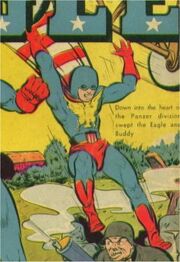 Powers and Abilities
Powers
Flight

Abilities
None known.

Strength level
Unknown.

Weaknesses
None known.

Paraphernalia
Equipment: None known.
Transportation: None known.
Weapons: None known.

Notes
Historical First Appearance: Weird Comics #8 (Fox Features, 1940)

Trivia
See Also
Discover and Discuss
Links and References
---
Ad blocker interference detected!
Wikia is a free-to-use site that makes money from advertising. We have a modified experience for viewers using ad blockers

Wikia is not accessible if you've made further modifications. Remove the custom ad blocker rule(s) and the page will load as expected.