Characteristics
Status
Origin
History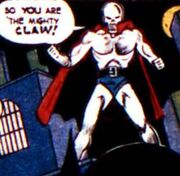 Pilot Brad Hendricks wore the costume of the Ghost to fight against the Germans in occupied Europe. He also waged an ongoing war against the Claw, nearly killing the villain on at least one occasion. Ultimately, the
Claw
still managed to survive, however. The Ghost had no powers, but he did have the high-tech Ghost Plane.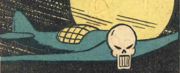 Powers and Abilities
Powers
None known.

Abilities
Symbiotic relationship with his plane.

Strength level
Unknown.

Weaknesses
Because he and his plane are now one he feels all that the plane feels.

Paraphernalia
Equipment: None known.
Transportation: Ghost Plane
Weapons: None known.

Notes
Historical First Appearance: Daredevil Comics #5 (Lev Gleason, November 1941)

Trivia
See Also
Discover and Discuss
Links and References
---
Ad blocker interference detected!
Wikia is a free-to-use site that makes money from advertising. We have a modified experience for viewers using ad blockers

Wikia is not accessible if you've made further modifications. Remove the custom ad blocker rule(s) and the page will load as expected.