Relatives
Unnamed parents (deceased)
Characteristics
Status
Origin
Charles Biro, Bob Wood & Alan Mandel
History
During World War II,
Adolf Hitler
ordered the execution of the Royal Family of the nation of
Swisslakia
. Somehow, they escaped and David's father told him of the giant, Golem-like statue created by Nostradamus to protect the country. He placed it under the boy's command. Dressing in a king's costume, complete with crown and a ceremonial short sword, he becomes the Boy King.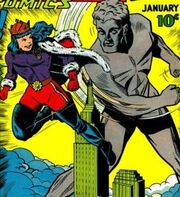 Powers and Abilities
Powers
None known.

Abilities
None known.

Strength level
Unknown.

Weaknesses
None known.

Paraphernalia
Equipment: None known.
Transportation: None known.
Weapons: The Boy King wields a short sword that has mystical powers which enable him to find lost heroes.

Notes
Historical First Appearance: Clue Comics #1 (Hillman, 1943)

Trivia
See Also
Discover and Discuss
Links and References
---
Ad blocker interference detected!
Wikia is a free-to-use site that makes money from advertising. We have a modified experience for viewers using ad blockers

Wikia is not accessible if you've made further modifications. Remove the custom ad blocker rule(s) and the page will load as expected.