Characteristics
Status
Origin
Gardner Fox, Ogden Whitney
History
Allen Turner was raised by his uncle to become "outstanding in mind and body". A brilliant scientist, he had no superpowers but did have a boomerang-shaped airplane dubbed The Wing, that flew by the power of Earth's magnetic poles. With this and money inherited from his late uncle's will, he fought crime.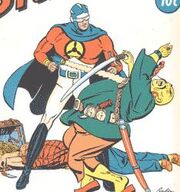 Powers and Abilities
Powers
None

Abilities
None known.

Strength level
Unknown.

Weaknesses
None known.

Paraphernalia
Equipment: None known.
Transportation: The Wing
Weapons: None known.

Notes
Historical First Appearance: Big Shot Comics #1 (Columbia, May 1940)

Trivia
See Also
Discover and Discuss
Links and References
---
Ad blocker interference detected!
Wikia is a free-to-use site that makes money from advertising. We have a modified experience for viewers using ad blockers

Wikia is not accessible if you've made further modifications. Remove the custom ad blocker rule(s) and the page will load as expected.